Revolutionary idea for....toilet paper?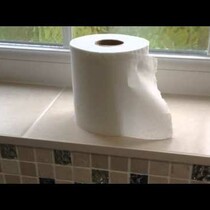 Posted September 2nd, 2014 @ 7:11am
Even toilet paper companies never stop researching how to serve their customers better. 17-million cardboard toilet paper tubes are thrown out every year, which is why Kimberly-Clark's new innovation is so ground breaking. Look soon for Scott Naturals Tube-Free bath tissues. It's a roll of toilet paper that works like any other roll, except when you get to the last sheet, it just rolls off. No cardboard tube. Genius! Of course, all pet mice hate the idea because it's taking away a fun toy to nibble and run through.


Speaking of toilet paper...
A father made a hilarious video for his children with "how to" tips for life. The first video is how to replace the empty toilet paper roll.