TEACHER OF THE WEEK - Mrs. Bogrette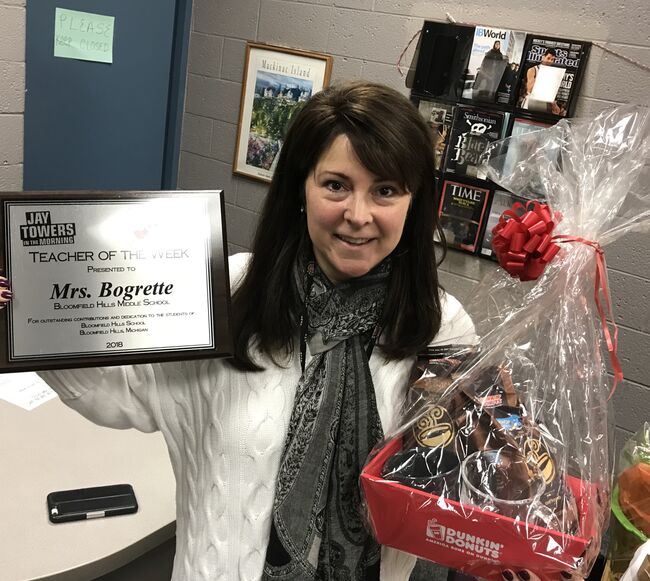 Bloomfield Hills Middle School - Bloomfield Hills
Congrats, Mrs. Bogrette! You're Jay Towers in the Morning's Teacher of the Week!
Bill B. wrote:
My teacher has been positively guiding lives for many, many years. And, though it's been many years since my son was in her classes, the fact that he passed away at the age of 20 due to a rare cancer, makes the impact this teacher made on his life so much more important. She helped mold him into a terrific writer, songwriter, performer and more. Leaving a legacy of many songs and, ultimately, a legacy that endures today through an endowment at the University of Michigan's Adrenal Cancer Research Program. How? Because she sees the gifts inside each child and encourages the to be shared. My son's story is just one. Prior to him and after and continuing today, she changes lives by teaching forensics and drama as human growth opportunities - not just performances. She spoke at my son's memorial back in 2006 and said, "Spencer wasn't here for a long time....but Spencer was here for a good time" - perfect. She took a very smart kid who was not engaged in most classes and unleashed an amazing, talented young man. Who knew he wouldn't be with us very long? She taught him to go for it. He did. He left us too soon, but his teacher gave him the confidence and tools to pursue his dreams. She's done the same with so many others.
We stopped by with Dunkin' Donuts treats and coffee for the teachers lounge! Thanks to Woods Trophies in St. Claire Shores for the amazing plaque and Brain Balance Achievement Centers for the $50 gift card and gift basket!