TEACHER OF THE WEEK - Mrs. Hewitt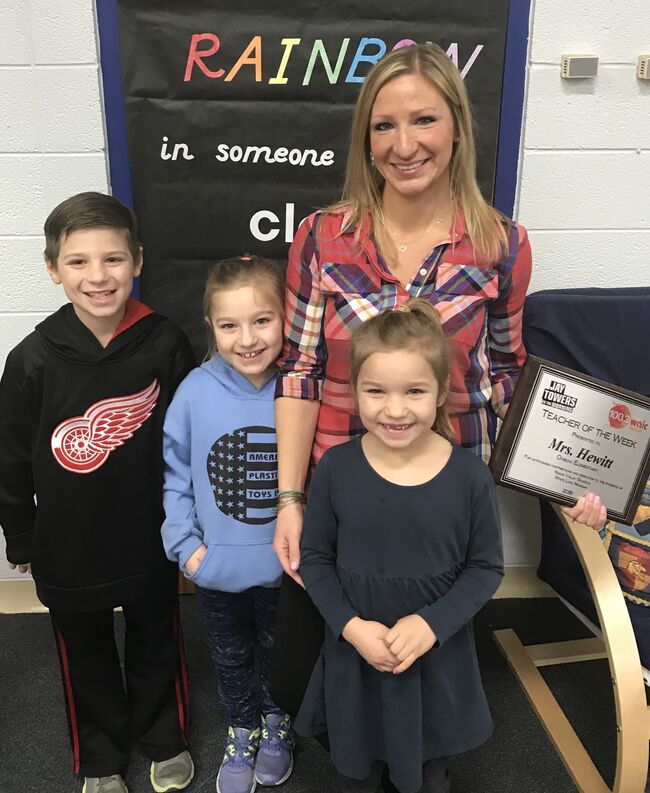 Oxbow Elementary - White Lake
Congrats, Mrs. Hewitt! You're Jay Towers in the Morning's Teacher of the Week!
Scott B. wrote:
Mrs Hewitt breaks the mold when it comes to being a teacher. She teaches with such passion and drive it makes you want to be a teacher yourself. When she teaches her students she does not just teach, she tries to help mold her students into the people we want to someday lead our future. She took on the task of trying a new way of teach this year to break the old ways and put our children first over just having test scores rule. The results in her class are impressive. The amount of things the children absorb when they are given the chance to succeed the way she teaches should seriously be looked at and maybe one day taken in to practice nationwide. Not only is she undertaking this new way of teaching she solely has taken on the school wide talent show all one her own and is heading up the year book for the school as well. She does all this while raising three wonderful children in many after school activities. Nobody knows who she gets it all done but she does. This is the type of teacher and person we should be appreciating and acknowledging for her efforts everyday in teaching our children.
We stopped by with Dunkin' Donuts treats and coffee for the teachers lounge! Thanks to Woods Trophies in St. Claire Shores for the amazing plaque and Brain Balance Achievement Centers for the $50 gift card and gift basket!