TEACHER OF THE WEEK - Mrs. Cole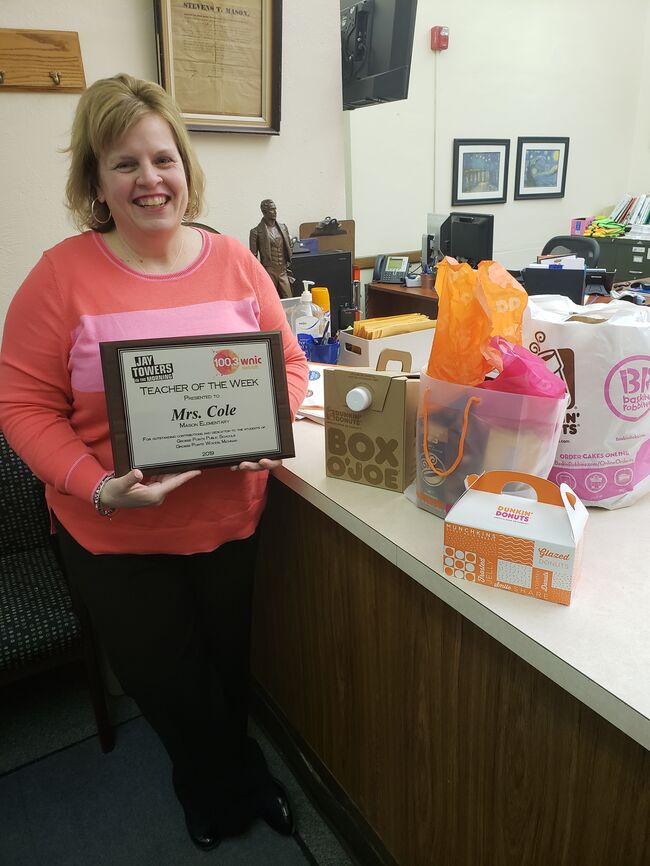 Mason Elementary - Grosse Pointe Woods
Congrats, Mrs. Cole! You're Jay Towers in the Morning's Teacher of the Week!
Theresa B. wrote:
Mrs. Cole is an all around AMAZING woman. She is dedicated, encouraging and compassionate! When in the classroom she brings the light. I have volunteered in the classroom and have seen first hand her kindness and understanding of young children. All three of my grandchildren have had her as their kindergarten teacher. What a wonderful learning experience they have had! She is also an AWESOME inspiration. Her youngest son has triumphed over cancer and she is committed to being the best of the best. She brightens everyone's day...just wanted to share a small bit of her wonderfulness. She definitely is deserving of this award hands down!! Mrs. Cole is the Teacher of the week every week :)
We stopped by with Dunkin' Donuts treats and coffee for the teachers lounge! Thanks to Woods Trophies in St. Claire Shores for the amazing plaque and MI 529 for the $50 Amazon gift card!